Company History
Several members of this project and enterprise, have experimented, worked with, and researched Alternative Energy, Renewable Energy, and Re-cycling Solutions for several years. After heart-to-heart discussions and unity between successful professionals, this company was founded.
The founder Samuel, is an electronic engineer with 20+ years of experience in security, facilities maintenance, waste-water treatment, mechanical systems, pollution control, aviation, industrial process controls, avionics, instrumentation, proto-types, recycling, international business, public relations, information technology, infrastructure, systems, subsystems, devices, and components.
From the age of 12 he never quit obsessively exploring production of electrical energy from natural resources (Renewable Energy) and
related solutions. With GlobalEnergyOne we will all reap great benefits as we provide practical Renewable Energy solutions and its benefits globally.
We have designed and are providing Renewable Energy Solutions that produces electricity from the Wind, Sun, Water, Ground, and Induction, which will save thousands, millions, or billions of dollars to individuals, communities, managers, institutions, industries, organizations, municipalities, and governments, locally, nationally, and globally.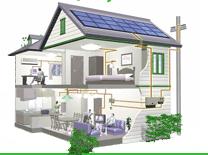 Professional Testimonials
"I just got to know about the Global Energy One venture and also understand what you are doing. I am sure this will be a success, as this initiative surely sounds to be a boon in these days!!!!!"
Vandana, HR Manager, Dubai, UAE
"Let me arrange some meetings for Global Energy One in Israel to help provide electricity for the Beduin settlements, who need it greatly. I will also put you in touch with a Mayor; a few organizations that are GREEN and Energy Conscious; and others who would benefit from your solutions."
Noah, Carmel Valley, Israel
"Global Energy One has a unique product, solution, and vision which is a very needed solution to our present Energy Crisis. I am joining this team to help our communities and maintain my livelyhood, in this down market." Senior Pentagon Technical Manager, Washington, DC
"The solutions, projections, and vision of Global Energy One is very evident in the homework and commitment of the Global Energy One leadership." Anand, Mechanical Engineer, Maryland
"Alternative Energy is the path to future; it is a necessity not a fantasy. The ideal of saving and recycling, not destroying. The vision and courage of pioneers bring wealth and happiness to future generations. I hope to be helpful in Global Energy One." Charlie Jaffray, Systems Engineer, Virginia
"GlobalEnergy One has inspired me, I want to be a part of this organization. I will also bring my friend to invest in this company. This company has Global potential and will give both the company and its clients the satisfaction, that we are using our natural resources wisely and profitabilly."
Kishore Thakur, Instrumentation Engineer, Virginia, USA